Hotel Management: A Rewarding Career Option in India
India is a rapidly growing economy, and the hotel industry is one of the fastest-growing sectors in the country. The industry is expected to generate over 10 million jobs by 2025. This makes hotel management a lucrative career option for students.
Benefits of Pursuing a Hotel Management Career in India
There are many benefits to pursuing a career in hotel management in India. Here are a few:
High demand: The hotel industry in India is booming, and there is a high demand for skilled hotel management professionals.
Good job prospects: Graduates of hotel management courses have good job prospects in a variety of roles, such as front office manager, restaurant manager, sales manager, and general manager.
Good salary: Hotel management professionals earn a good salary, especially in senior positions.
International opportunities: The hotel industry is a global industry, so there are opportunities to work in different countries around the world.
Job satisfaction: Hotel management can be a very rewarding career. You will get to work in a fast-paced and dynamic environment, and you will have the opportunity to interact with people from all over the world.
Hotel Management Courses in India
There are a number of hotel management courses available in India at different levels, including certificate, diploma, and degree level. The most popular hotel management courses in India are:
Bachelor of Science in Hospitality and Hotel Administration (B.Sc. HHA)
Diploma in Hotel Management (DHM)
Diploma in Food Production (DFP)
Diploma in Food and Beverage Service (DFBS)
These courses are offered by a variety of institutions, including government-run and private institutes. The admission process for these courses varies depending on the institution. However, most institutes require students to have passed their 10th or 12th grade examinations.
Top Hotel Management Institutes in India
Here are a few of the top hotel management institutes in India:
Institute of Hotel Management, Pusa, New Delhi
Institute of Hotel Management, Catering Technology and Applied Nutrition, Mumbai
Institute of Hotel Management, Kolkata
Institute of Hotel Management, Hyderabad
Institute of Hotel Management, Chennai
Welcomegroup Graduate School of Hotel Administration, Manipal
Oberoi Centre for Learning and Development, Gurgaon
Taj School of Hotel Management, Aurangabad
Le Cordon Bleu, Delhi
Swissotel School of Hospitality, Bangalore
Asian Institute of Hotel Management, Kolkata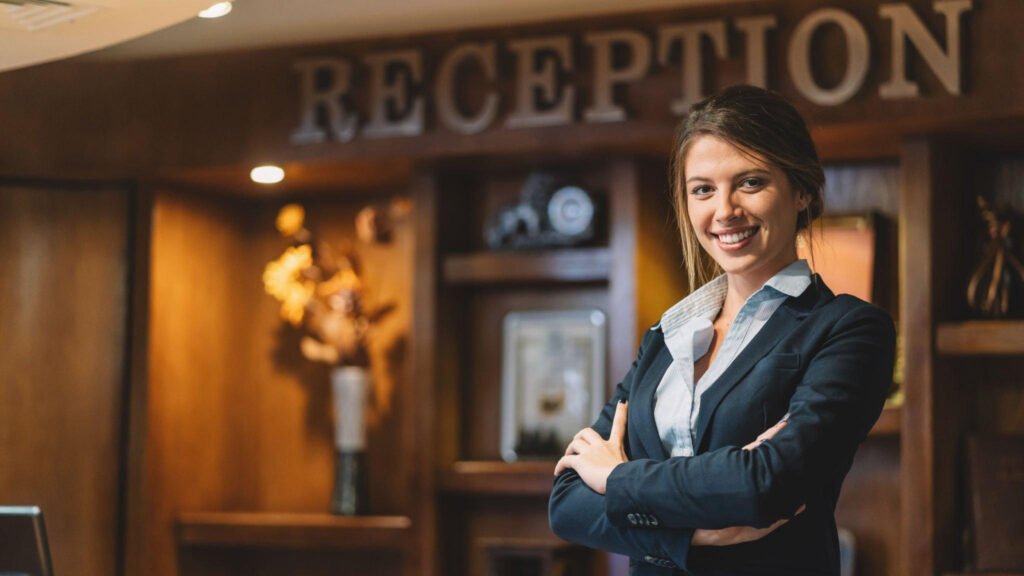 Hotel Management Jobs in India
There are a variety of hotel management jobs available in India, including:
Chef
Restaurant manager
Front office manager
Sales manager
Human resources manager
Financial manager
Event manager
Guest relations manager
Housekeeping manager
Maintenance manager
Security manager
Hotel management professionals can work in a variety of hotels, including luxury hotels, budget hotels, and resorts. They can also work in other hospitality-related businesses, such as restaurants, catering companies, and event management companies.
Salary Prospects for Hotel Management Professionals in India
The salary prospects for hotel management professionals in India are good. The average salary for a hotel management professional in India is around ₹50,000 per month. However, the salary can vary depending on the job role, the experience of the employee, and the type of hotel or hospitality business the employee works in.
How to Make a Career in Hotel Management in India
To make a career in hotel management in India, you need to follow these steps:
Choose a hotel management course and enroll in a reputable institution.
Complete your course successfully and gain some practical experience through internships or trainee programs.
Apply for hotel management jobs in hotels or other hospitality businesses.
Keep your skills and knowledge up-to-date by attending industry events and training programs.
Conclusion
A career in hotel management can be a very rewarding one. With the right training and experience, you can have a successful and fulfilling career in this industry. If you are interested in pursuing a career in hotel management in India, there are many resources available to help you get started.